Adam McIntyre - Guitar & Vocals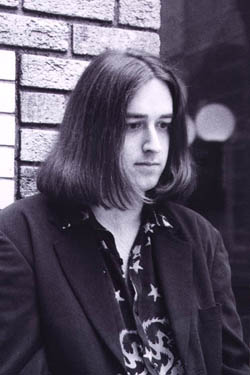 click on the photo to see gear!
21-year old Adam is the lead vocalist and guitarist for the three-piece rock band Superhype. Adam began playing guitar seriously around the age of 15. For most of his teenage years, he focused on blues and blues-influenced rock like Jimi Hendrix and Led Zeppelin. These influences are clearly heard on the CD of his first band, Drivin South. He moved from his hometown of Montgomery, Alabama to Nashville in 1996 and quickly found himself playing guitar for a number of Belmont University artists and projects. "I did everything from studio work to playing out and everything in between. It forced me to learn different styles... and taught me how to play rhythm." Adam began to focus on songwriting rather than guitar at the age of 19, calling upon Drivin South bandmate Eric Stroud to help him with the new demo tapes. On these demos he began experimenting with combining different sounds; "I'm really interested in the Brian Wilson Pet Sounds thing of putting together two sounds to get a new one... using two textures together to get a third." The result of that experiment was the rocking opening song on the new Superhype CD, "Something New". Superhype (and Something New) are now getting radio play both in Nashville and Montgomery, so look for them at a venue near you soon.
---
Email Adam