Check out our new merchandise store at mp3.com, including T-shirts and mousepads!

Stickers!
3 for $5 (includes shipping)
---
The Superhype CD was produced by Ryan Gill and recorded at The Castle in Franklin, Tennessee.

Track Listing: 1:Introduction 2: Something New 3: Magnificent 4: Take Me Back 5: Come Inside

These CDs are $8 each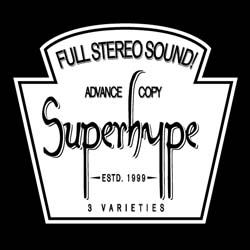 You can use a credit card with this...
or just email us...