BOOKING:
To suggest a band (or yourself!) please have a CD (even just a CDr or an mp3 is fine) and some kind of promo kit ready and shoot us an email here:
Paul Cassella: email
Adam McIntyre: email
We are focusing on Nashville-area bands, but that doesn't mean we're not interested. We'd like one out-of-towner per show.
Please be ready to creatively promote the HECK out of a PPX show, everyone involved has to give 100% or it doesn't work. Don't have another Nashville show within a week (or more) or your PPX gig. We go for a media blitz, so it's common for PPX shows to be publicized in The Rage and The Scene as well as on the air. So doing your part can include but isn't limited to putting up posters, handing out flyers and/or CDs around town... or anything else you can think up! Yeah it can be a lot of work but when 4-5 bands do it, it's worth it to have a ton of people show up to see you play!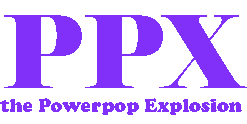 FEATURES:

SOUND:

CONTACT:

ARTISTS: